Welcome to Bouygues Telecom, one of France best network operators
Welcome to Bouygues Telecom
Tourist Guide
included
15GB data
in France
Coverage in
all Europe
15 days
validity
Instant delivery
via email
Activation in
France only
Enjoy your vacation in France and Europe with my European eSIM
No More Roaming Cost
You are going on holiday or travel on a business trip to France? With my European eSIM from Bouygues Telecom you will not have to worry about expensive roaming fees anymore! Browse the internet in all of France and Europe at no extra cost guaranteed!
Exclusive and useful gifts
Every eSIM comes with a tourist guide, including national monuments, activities, good deals and discounts for each region. The tourist guide is translated into 10 languages.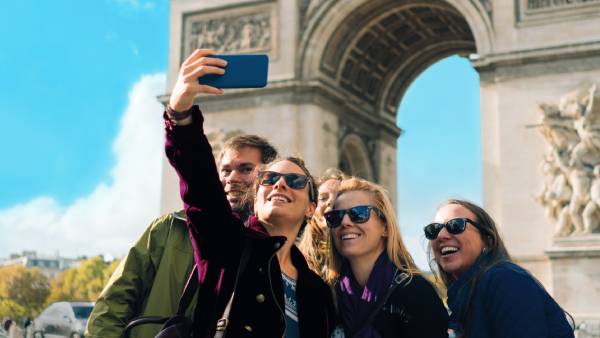 15GB internet in France
Enjoy 15GB in 4G/LTE highspeed connection in all of France. After your first activation within France, you can use your data allowance in all Europe.

With your Travel Basic+ eSIM you can enjoy unlimited calls & texts in France and within all Europe (see county coverage in the coverage list).
Coverage in 53 countries
After being activated in France use my European eSIM in all of following European countries: Aland Islands, Andorra, Austria, Azores, Balearic Islands, Belgium, Bulgaria, Canary Islands, Corfu, Crete, Croatia, Cyclades, Cyprus, Czech Republic, Denmark, England, Estonia, Faroe Islands, Finland, Germany, Gibraltar, Greece, Greenland, Guernsey, Hungary, Ireland, Jersey, Iceland, Italy, Latvia, Liechtenstein, Lithuania, Luxembourg, Madeira, Malta, Man (Isle of), Northern Ireland, Norway, Netherlands, Poland, Portugal, Rhodes Island, Romania, Sardinia, Scotland, Sicily, Slovakia, Slovenia, Spain, Sweden, Vatican, Wales, Wight (Isle of).
Looking for an alternative?
See the other eSIMs available from Bouygues Telecom
The Sim card worked really well. We started our Euro trip in Paris. A lot of data with good signal all over Paris, Barcelona and Rome. I recommend this SIM Card for those countries. Please bear in mind to activate it within France...
Andy
Bought this SIM Card for our business trip to Marseille. SIM Card was delivered to the hotel, no hassle. Activation was simple and straightforward. Signal and connection was good and stable all the time. Recommend ★★★★★
Lisa
Any Questions?
You have a question about our product, delivery or your current order? Please feel free to contact us any time by phone, live chat or email